What's being said about Illusions by Vick
~ As Professor Snape

We all LOVED your performance - kids and adults alike!
It really made the party extra special,
and very memorable for Kelsey,
to have Professor Snape hold class
with such a variety of illusions.
We felt fortunate to have discovered you.
Thank you, thank you, thank you.
Beth A



Vick played Professor Snape from Harry Potter for our son's 9th birthday
and he was a HUGE hit. He played the part well and his magic was astounding.
Vick had each of the 11 kids at the party involved in at least one trick
and really dazzled not only the kids, but the adults as well.
He was extremely professional and just a delight to work with when planning our party.
He was quick to respond, via email, and really planned well.
Our son has been interested in magic since he was young and has seen quite a few magicians,
but he said he thought Vick was the best he has ever seen!

Kandice D





Vick was fabulous! He made my son's Harry Potter party a truly memorable event.
I can't rave about him enough!
-Donna R,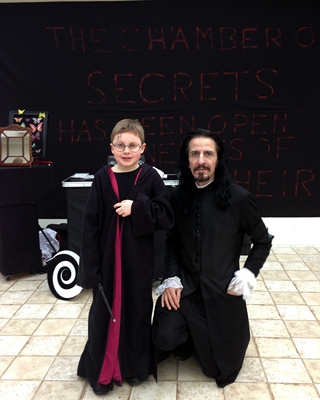 Dear Professor Snape
A.K.A. Vick Gisin,
Thank you, Professor Snape for performing your magic at Howard County Library, More Muggle Midnight Madness was a hit with over 650 attendees Everyone was impressed with Professor Snape and his feats of magic. They raved about how realistic the evening was and their encounters with you only made them feel more like a part of Hogwarts. Everyone was asking about Professor Snape and his true identity Thank you for your time and dedication helping to make this evening a success. We look forward to your future magic show at various Howard County Library Branches this fall Sincerely,
Cari G
Head of Children's and Teen Educational Programs.
Howard County Libraries

Vick,
Thank you so much for performing at the SOA's
The Music of Harry Potter.
Thanks to your participation we brought music to
over 400 friends and family!
-Symphony Orchestra of Arlington


We booked Vick as the entertainer for our;
daughter's 8th birthday party,
and we were excited and pleased by his performance.
He offers a variety of packages, and for our party,
Vick took on the persona of Professor Snape
(from the Harry Potter books)
during a 45 minute magic act.
Vick will adjust his performance to meet your
preference based on the age
and interest of the audience.
He can vary the intensity of Snape's nastiness.
Given the members of our party,
Snape was mildly irritated by the
non-Slytherins, but not scary.
The magic was captivating and held the interest of
both adults and children.
Vick's communication during the booking process was
excellent and the payment process was clear and easy.
Out of character, he is easy-going,
friendly with guests, and always professional.
An easy recommendation!
Mike C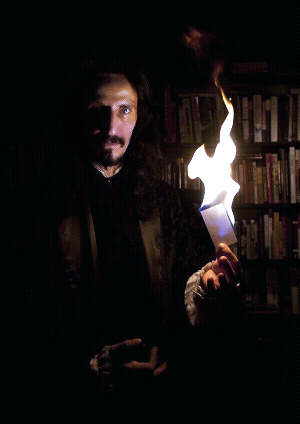 Then magician Vick Gisin — in the guise of Professor Severus Snape
astonished the crowd with his magical talents, such as levitating and shrinking objects,
and igniting a page from a book into flame.
"He was amazing and everyone who saw him was blown away," Said Tess Hogans,
vice president of the Harry Potter Festival Volunteer Executive Board
and theater manager at the Garfield Center for the Arts.