Illusions by Vick
Vick Dias Gisin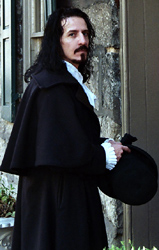 Ellicott City, Maryland
(C) 443-540-9631
Shows@illusionsbyvick.com
http://www.illusionsbyvick.com

Mission Statement - As an artist and entertainer called by the art of magic it is my mission to craft, share and accompany you, the audience on a one of a kind journey into a world of amazing entertainment. An experience that engages the imagination, touches the heart and tickles the funny bone. Perhaps even to challenge your perspectives but most of to be entertained and to have fun. Sharing something that audiences take with them after the performance to help create great memories. All from a place where anything can happen and the seemingly ordinary can become the incredible.
Experience - 20+ years professional performing experience and intense study in the art of magic. Incredibly fortunate to have shared over 4,000 performances.

A sample of clients and venues include The Smithsonian *, Google, John Hopkins *, Bally's Atlantic City, Oracle*, Hewlett Packard, Mercedes Benz *, the Symphony Orchestra of Northern Virginia, D.o.D. (Department of Defense) , the British Embassy, Toyota Motors of North America, Nestle, Veuve Clicquot, Strathmore, D.A.R. Constitution Hall, the Baltimore Museum of Art, The National Zoo *, The Maryland Zoo *, Alliance Francaise * The George Washington Masonic Theater, Hillwood Museum, B & O Railroad Museum *, The Harmon Center for the Arts *, Everest Wealth Management, Towers Watson, Wiley Rein *, The University of Maryland*, Goucher College*, Towson University *, Coastal Carolina University, Baltimore Harborplace Amphitheater, Cox Farms "Fields of Fear" Halloween attraction *, The Chestertown Harry Potter Festival, Colonial Beach Rock N Blues Festival *, Herndon Festival *, Di-Atglen Alley Wizard Faire *, Magooby's Joke House, the Gaylord National *, The W *, Aloft Hotels*, The Four Seasons *, The Metropolitan Club of the City of Washington DC, The University Club of Washington DC *, Spirit Cruises *, Odyssey Cruises *, plus Fund Raisers, Trade Shows, banquets, nightclubs, theaters and private events. Illusions by Vick was featured in a commercial for a car dealership as a magician in 2017. * = repeat clients and venues with multiple performances
Illusions by Vick was featured in a commerical for a car dealership as a magician in 2017.
* = repeat clients and venues with multiple performances
In 2020 am extremely happy to be performing the Illusions by Vick show (stage and parlor) presenting up to 200 performances at public and private events and venues. Run time is approximately 45 to 50 minutes.

Professional performing experience early in my career included some very challenging and rewarding situations. For 3 years I was the lead entertainer at Muvico Theaters (now Cinemark) a 24 screen multiplex with an approximately 6,400 patron seating capacity in Arundel Mills, Maryland. Was featured warming up and entertaining movie going patrons before the feature film began, performing up to 25 times a day, 3 days a week. The entertainment was magic based and included skits, stand up comedy, character acting and story telling. Many characters from featured movies were brought to life for patron's entertainment including Professor Snape, Willie Wonka, Captain Hook, Pirates and various medieval characters. We created all our own material including scripts, costuming and staging. While it was a great experience I left after 3 years as I had accomplished all I felt I could in that venue.

For 6 months in 2008 I was the featured illusionist for the Golden Triangle Cabaret on M Street at Club Ozio in Washington DC. The Golden Triangle Cabaret is a 1940's theme Burlesque Review. While the show was being performed weekly I was performing two or three 10 to 12 minutes spots of magic during each performance. The featured burlesque artist left and the show moved to a monthly performance schedule. At that time I chose to leave the ensemble.

These challenging venues were instrumental in developing abilities and learning to provide the best entertainment for an audience in unique situations.

From there business bloomed into to a wonderful and rewarding career.

A short description of self, study and influences- Unique (aren't we all), resourceful, responsible, honest, determined, hardworking, adventurous, occasionally charming and reasonably well spoken. I'm driven by a sincere desire to share unique entertainment experiences that help audiences have fun, smile, maybe a bit of wonder and a bit of mystery. While trying to elevate the art of magic. To help return the art of Magic to the regard it was once held in.
Am always learning. The works of Sam H. Sharpe have been a huge influence on my magic and performing as well as the Fitzkie Trilogy, "Our Magic", the works of Tommy Wonder, Robert-Houdin and Henning Nelms "Magic and Showmanship". There are many schools of thought and great ideas
Have been incredibly fortunate to be given guidance by an enigmatic figure (an actual card man) whose name I obviously cannot mention and to whom I am extremely grateful. Also the very talented and respected Denny Haney was kind enough to assist with direction in the art (and putting up with my questions) Denny passed in January of 2019, our world got a little dimmer as a bright shinning star left us. As part of my continuing education I regularly attend lectures, some of my favorites being Joanie Spina, Michael Weber, Richard Osterlind, Banachek, John Carney (twice), Darwin Ortiz, Michael Ammar, Axel Hecklau, Howie Schwartzman, Christopher Bolter, and Christian Painter. Was extremely fortunate to have worked briefly with Joanie Spina as a director. She made a huge, positive impact on my work, enhanced how I create and view the art of magic. She was an amazing talent, director, teacher and humanitarian.
Most of the influences on my work and performing come from outside of the world of magic and include film, literature and music. Create something that engages minds, enables viewers to think and feel and you have created art.

What you receive when hiring Illusions by Vick - First and foremost, working (with you) to create an amazing, fun and unique entertainment experience. An experience the audience will always remember. A performance that will meet and exceed your expectations. All my experience, determination, heart and talent go into creating, performing and providing you and your guests with a unique, fun, sophisticated and amazing entertainment experience.
Every performance is more than just my dream and career, it's my name and reputation on the line. More than that it's yours. How well I perform and the fun and amazement around the show is the art. How well you and your guests enjoy it and will have Illusions by Vick back next year, the years after and recommend Illusions by Vick is part of the business. I understand the importance of both the entertainment/artistic side and the business side and am able bring them together. I have to succeed at both for us to be satisfied. When you pull back the curtain and peek you see that sometimes show business = 10% show + 90% business.

Accolades
- Named by CBS Local as a top 5 magician
- Top rated magician in DC, MD and VA by the Gigmasters talent website since 2010.
- Awarded Best of by the Gigmasters talent website in 2012, 2013, 2014, 2015, 2016, 2017, 2018 and 2019.
- Top rated magician for adults and all age audiences in MD, DC and VA by the Thumbtack talent website since 2012.
- Only magician recognized by the Maryland State Arts Council.

The accolades are nice but what means the most are the happy audiences and clients, all the wonderful emails, reviews, gifts and longtime friendships with clients. Am very fortunate to have clients who bring me back year after year to share in their special events.
Please feel free to Google "Illusions by Vick" and read the reviews clients have posted all over the internet.
Home

(C) 443-540-9631
Shows@illusionsbyvick.com


For peek behind the business
and Illusions by Vick
The Blog is here